Building it better-that's why we use JASPER!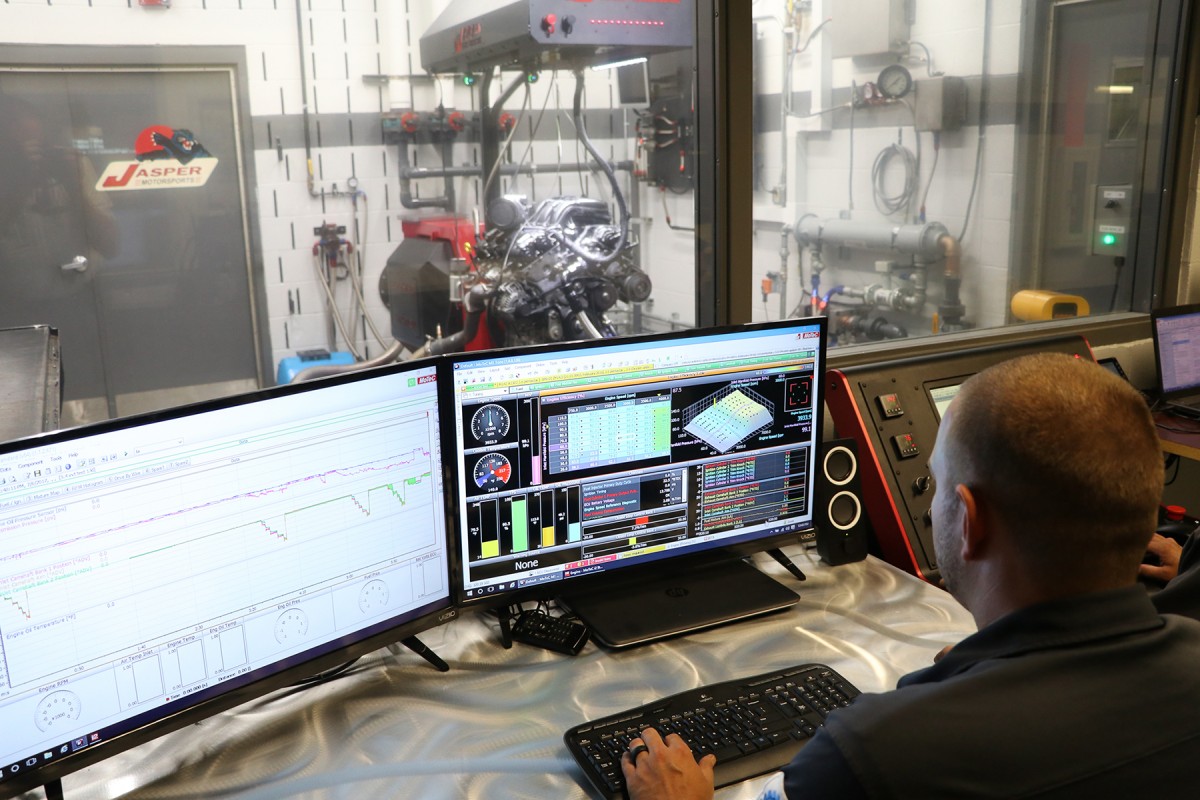 Breaking News! JASPER installs New Dynamometer for Long Range New Product/ Authentic Engine Testing. Grover's Auto Repair in Mathews is a proud partner with a company that is working to lead the way in the next generation of engine testing. Jasper is always on a mission to design impeccable products that will keep them ahead of the competition and work best for their customers. What is this new progression you ask? Jasper Engines and Transmissions has installed a computerized dynamometer that will help improve new products and for use with Jasper Authentic Custom Drivetrain division.
The Land and See DYNOmite, 2000 horsepower, water brake dynamometer delivers more accurate horsepower and torque readings. What does this accomplish? It gives Jasper the capability to modify each condition and allows their product development group to conduct long-term engine testing!
"We will use this dyno for 50-hour engine durability testing on all new products, before they are released," said Brad Beoglin, JASPER Product Development Group Leader. "With the use of a MoTec Stand Alone Engine Management and Data Acquisition system for engine control, we'll put an engine we are developing under various RPM, and load conditions to simulate real-world driving and wear situations. The full 50 hours are logged to verify VVT operation, oil pressure/temperature, water flow/temperature, exhaust temperatures, individual cylinder knock identification, oil consumption and engine timing change due to wearing timing components. This will give JASPER further insight into long term failures, and how to correct them, before a product is released."
Engine parts stress differently under load conditions, so with this new tool it will test engine parts, oil pressure, sensors/solenoids, water flow/ temperature differentials. According to Boeglin, "we can now put these engines under loads, test, and create tighter tolerances which, in return, will increase the life of the engine." Increasing the life of engines, increases happy customers, here at Grover's Auto Repair that is our foremost mission.
Jasper Authentic Custom Drivetrains will use this new dynamometer to test customer's engines as an added service to the custom remanufacturing package. For additional charges, you can have the dynamometer tested with printed results of torque and horsepower readings of the engine! This is a complete testing of your engines with the fuel and ignition systems. Not only are you getting a higher quality product, but it will take less time to install info your vehicle.
Grover's Auto Repair in Mathews believes our drivers deserve the best, we firmly believe that these changes will be very productive in future engine testing.
---
Thank you for visiting Grover's Auto Repair in Mathews, VA. Count on our automotive repair technicians for complete automotive repairs, maintenance, and diagnostic services. Choosing our team will keep your car, truck, suv, or van on the roads longer and safer.
Schedule your appointment today (804) 725-7129.