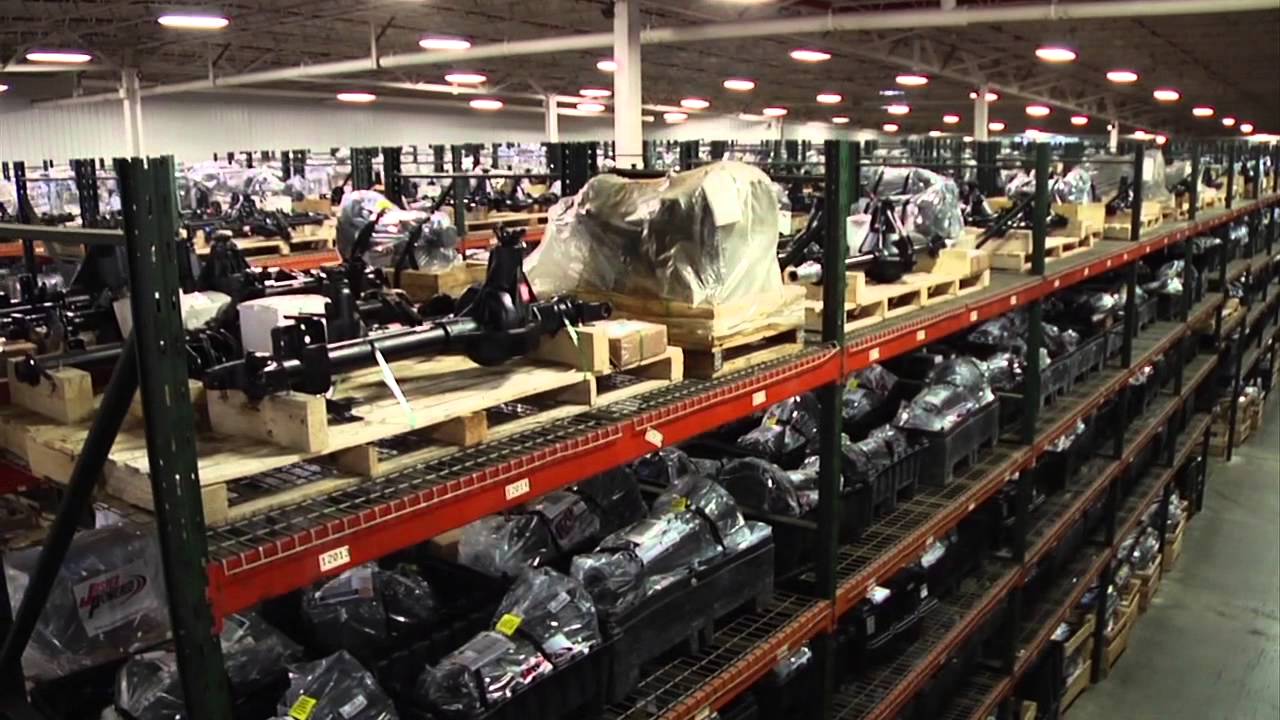 JASPER® remanufactures a complete line of Rear Axle Assemblies and Differentials including Dana, Chrysler, Spicer, Ford, and GM. Most popular chassis applications are available for immediate exchange. Toyota and other manufacturer's differentials are available with one day in-plant custom remanufacturing.
When it comes to remanufacturing differentials and rear axle assemblies, JASPER® sets the standard, adhering to the measured standards of the original equipment manufacturer. Our state-of-the-art reman processes allow us to remain firmly on the cutting edge when it comes to remanufactured differentials. Factory and distributor inventories together with a substantial stock of parts, allow us to provide overnight availability on over 500 models and ratios. Used or junkyard components may have high mileage and a poor maintenance history – a failure waiting to happen. Many used or junkyard components come from a vehicle that was involved in an accident and may have unseen damage. Their process is quite precise.
STEP ONE. THOROUGH CLEANING
Pre-wash
Complete disassembly
Thorough cleaning
Rust stripper
Rinse
Final wash
Buffing
COMPLETE INSPECTION
Critical inspection is given to all areas of housing and gear assemblies.
Inner pinion bearing bore inspection for spin damage, typical of a lubricant-related failure, and miking for conformance to dimensional tolerances.
Miking and visual inspection of the axle end, as well as inner and outer wheel bearing and wheel seal surfaces, for wear and damage.
Gear inspection at multiple points throughout the remanufacturing process.
Inspection of carrier and pilot bearing bores for correct size and roundness to avoid premature bearing failure.
ALL NEW PARTS PROVIDED
Bearings
Gaskets
O-rings
Seals
Thrust washers
ASSEMBLY BY HAND WITH MULTIPLE TESTS
Pinion bearings are preloaded to specifications.
All gears are lubricated.
Ring and pinion are replaced only in matched sets.
Torquing of all bolts to O.E.M. specifications.
TESTING THOROUGHLY
Precise measurement of runout as applicable to differential design due to its influence on adjustments to backlash and the tooth contact pattern. JASPER limits runout to .008 of an inch, with some units requiring specifications as close as .003 of an inch.
Inspection for correct backlash clearance to assure proper gear lubrication for reduced noise and to avoid overheating, especially in severe-duty applications.
Exact adjustments of tooth contact pattern, within thousandths, for minimum gear noise and reduced fatigue. The contact pattern must meet O.E.M. drive and coast-side requirements.
Gauge block inspection assures correct dimensional tolerances in order to reduce gear noise
To rebuild is to recondition by cleaning, inspecting and replacing severely worn or broken parts. Serviceable parts are reused within the manufacturer's acceptable wear limits. The quality of rebuilt components varies widely and many come with only a limited warranty.
REMANUFACTURED ENGINES, TRANSMISSIONS AND DIFFERENTIALS
To remanufacture is to make as close to new as possible. Most wearable parts are automatically replaced. All core material is closely inspected and checked against original equipment specifications for correct dimensional tolerances. Replacement parts are new or requalified. If new, parts are made in the same production processes as original equipment. Testing is performed to manufacturer specifications and original production standards.
Choose for yourself, but know that JASPER will only provide completely remanufactured engines, transmissions, differentials and drivetrain products — or any of our other remanufactured components — with a nationwide warranty. You can drive away from your technician's shop with confidence if you have a JASPER reman component.
Facts About JASPER Remanufacturing
JASPER Engines & Transmissions was founded in 1942 and today is the nation's largest mass remanufacturer of a diverse line of drivetrain components. Annual production includes 65,000 gas engines; 75,000 transmissions; 6,500 diesel engines; 5,000 differentials and rear axle assemblies; and 1,200 stern drives. The product mix also includes performance engines and transmissions, marine engines, stern drives, outboard lower units and outboard powerheads, alternate fuel engines and electric motors.
JASPER is the only remanufacturer to have 3 individuals named Remanufacturer of the Year by PERA, The Production Engine Remanufacturer's Association.
Corporate and remanufacturing operations are housed in a 367,000 sq. ft. facility located in JASPER, Indiana with all remanufacturing performed in three facilities. Inventory is housed in two distribution centers - one in Indiana and the second in Kingman, AZ.
JASPER Engines & Transmissions employs over 1500 Associates. JASPER products are distributed through a network of 40 branch and distributor locations.
JASPER supplies transmissions and differentials to some of the greatest names in NASCAR racing. The technology we gain is built into the products we supply for your race of everyday life.
JASPER operates on a philosophy of a continuous improvement in safety, quality, productivity, customer service and the reduction of waste. Our mission statement is simple: "Do It Right and Have Fun!" We are committed to remain a leading force in the automotive industry. Progressive programs of research and new product development enable us to provide quality value-oriented products second to none.
Every remanufactured product is thoroughly tested and inspected for quality assurance.
Immediate availability on most popular applications. Fast turn around custom remanufacturing programs are also available.
JASPER remanufactured products are built to industry specifications that are equal to or more exact than those used by the original equipment manufacturer.
JASPER remanufactured products are backed by written factory warranties. A Premium Service Plan is also available.
The bottom line is value and JASPER remanufactured products provide value for your dollar in terms of longevity, durability and performance
Every JASPER rear axle and differential assembly is backed by a nationwide warranty. JASPER differentials and axle assemblies for cars and trucks receive 3 year/100,000 mile parts & labor coverage. A technical hotline (1-800-827-7455) and 24 hour 7 day emergency warranty information are also available. WARRANTY