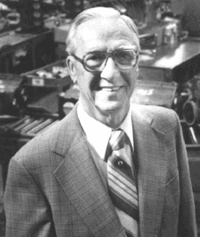 "I decided the automobile business was going to be big and that I should like to be a part of it."
— Alvin C. Ruxer
Alvin C. Ruxer, was born in the Southern Indiana town of St. Meinrad. Although he is best known for his involvement in and contributions to the automotive industry, there were several sides to this man. As a newspaper article once stated, Alvin Ruxer floorboarded life's accelerator. His love of baseball was born at an early age. Although he chose business over an opportunity to play semi-pro ball, Alvin's interest in the sport never waned. In fact, he used many of the sport's basic principles in his personal and business dealings.
Alvin often jokingly said he saw opportunity in everything. As a young businessman, Alvin was once quoted as saying, I didn't have enough money to afford a bookkeeper so I married one! Hilda Ruxer was a real partner both in his business and personal life.
In addition to founding JASPER Engine & Transmission Exchange and Ruxer Ford, Alvin built an American Saddlebred horse farm that is known throughout the nation.